Careers
We're looking for senior consultants!
Are you our new colleague? Do our quickscan now ;-)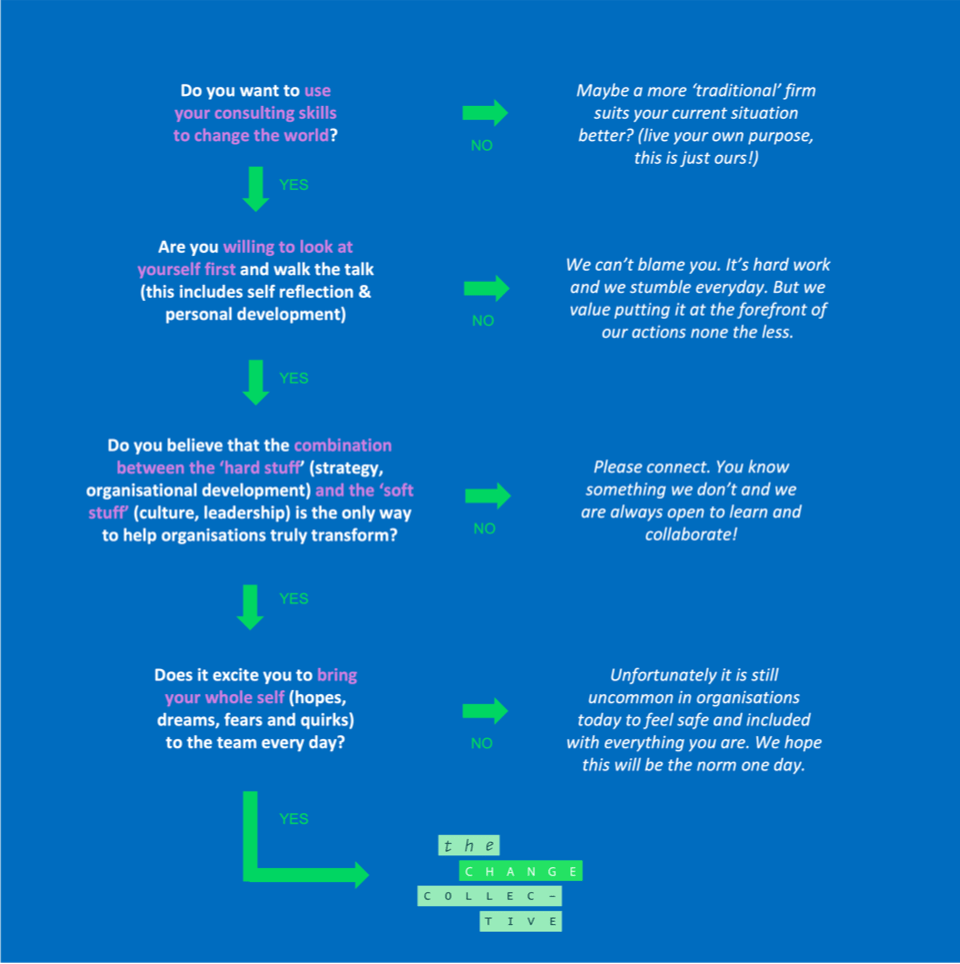 Did you say yes to the questions? Continue reading.
Who are we?
Founded in 2015 our collective is steadily growing. Therefore, we're looking for senior consultants to join our team. Our website is a good respresentation of what we believe in, but below we give you the management summary:
A collective of changemakers connected by the same sense of purpose and ambition, with a drive to make the world a better place
We guide organisations in their transformation towards the new economy
Throughout our approach we combine the hard elements of change, like strategy, process and structure with the soft elements of leadership, coaching and culture
We love what we do and think we are good at it too ;-)
We practice what we preach and take care of our people and the planet. How? We are a @BCorp, self-organising, have a brand-new sustainable office, are 100% transparent and always open for dialogue
What about you?
Still reading and excited? Maybe you're exactly what we're looking for! Besides the obvious that we're looking for a personal connection, we summarize the more 'traditional' criteria below:
For senior consultant: 6 – 12 years of relevant consulting experience
Has change and transformation skills
Has intrinsic motivation to use business as a force for good
Can design and execute organizational change interventions regarding culture & leadership
Has experience & expertise in managing large transformational projects
For a senior consultant, we look for someone who has experience in business development, and with a professional network
Has taken steps in their personal development
Is both analytically strong and is sensitive to social dynamics
Is fluent in Dutch and English
Is looking for a 4-day work week (there's more in life than work, right?)
Is this your profile?
Are you excited and do you recognize yourself in this vacancy? We would very much like to meet you! Please send your resume and a short video in which you introduce yourself and your motivation to work for TCC to info@thechangecollective.nl and let's explore together.
Please note that we are committed to attracting and retaining a group of diverse employees. The Change Collective will honor your experiences, perspectives and unique identity. Together, our community strives to create and maintain a working environment that are inclusive and welcoming.